President Obama Calls Jason Collins

http://bayardrustincoalition.com/president-obama-calls-jason-collins/

NBA Center Jason Collins Comes Out

http://bayardrustincoalition.com/nba-center-jason-collins-comes-out/

Interview with civil rights activist Bayard Rustin's partner, Walter Naegle

http://bayardrustincoalition.com/interview-with-civil-rights-activist-bayard-rustins-partner-walter-naegle/

Supreme Court Taking up Marriage Equality – Will Hear Arguments on Prop 8, DOMA

http://bayardrustincoalition.com/remembering-bayard-rustin-justice-ethics-community/
MAY 2013
APRIL 2013 
'Impressed By His Courage' In Coming Out, President Obama Calls Jason Collins
 
President Obama called NBA player Jason Collins, after the athlete publicly came out as gay.
WASHINGTON — President Barack Obama called Jason Collins on Monday to express his gratitude after the NBA player publicly announced that he is gay, two sources familiar with the call told The Huffington Post.
A White House official confirmed the call, saying that the president wanted to "express his support" and tell Collins that "he was impressed by his courage."
The conversation took place several hours after Sports Illustrated published an essay by Collins in which he came out and explained why he had waited until now to make the announcement.
Collins, 34, has been a journeyman center in the NBA since graduating from Stanford. In penning his Sports Illustrated essay, he became the first openly gay male athlete to be currently playing a major sport.
The announcement took both the sports world and the LGBT community by surprise, with one gay rights activist telling The Huffington Post they were "caught off-guard," but adding that they were thrilled at the overwhelming public support Collins has received.
Several politicians have applauded Collins' decision to come out as well. First Lady Michelle Obama tweeted her support, while former President Bill Clinton — whose daughter went to school with Collins — offered a statement exalting his courage.
Collins is set to make his first public remarks since coming out on Tuesday, when he'll appear on ABC's "Good Morning America."
(April 27, 1927 – January 30, 2006)
Coretta King played a prominent role in the Civil Rights Movement after her husband's death.                                   In her later years, she took up the mantle for LGBT rights and marriage equality.
The city of Cambridge GLBT Commission seeks nominations for the annual Bayard Rustin Service Award, an honor bestowed to a person of color with an outstanding history of service to the GLBT Community. The award will be presented at the annual Cambridge Pride Celebration, a tradition that takes place at City Hall on the morning of the Boston Pride Parade –  June 8, 2013
The deadline for submitting nominations is April 22.
This award has been named in honor of Bayard Rustin, an American civil rights activist who helped usher in the Civil Rights Era of the 1950s and 1960s. As an early adopter of nonviolent protest methods, Mr. Rustin counseled Martin Luther King, Jr. at a time when the young minister was just gaining national prominence; Mr. Rustin would continue to work with Dr. King in the coming years, serving as the chief organizer of the famed March on Washington for Jobs and Freedom in 1963. Mr. Rustin then worked tirelessly to advocate for GLBT causes in the latter part of his career, courageously standing in defiance of the viciously negative attitudes towards members of the GLBT community. Through his advocacy, he helped raise awareness and expand horizons, paving the way for a society that is more inclusive, accepting, and respectful of its wonderful diversity.
Criteria for Nomination
Nominees for the Bayard Rustin Service Award must be a past or present resident of Cambridge, or they must currently or previously have worked in Cambridge. Nominees may not be a member of the Cambridge GLBT Commission, or a family member of a commissioner. Nominees may be city employees, so long as they are being nominated for service beyond the scope of their employment. Posthumous nominations will also be accepted and considered.   To nominate someone for this award, complete the application and return it to the Nomination Award Committee. Contact information is on the last page of the nomination form, which is available here or can be filled out online here.
About the GLBT Commission
The City of Cambridge GLBT Commission advocates for a culture of respect, and monitors progress toward equality of all persons with regard to sexual orientation and gender identity. The Commission is committed to promoting and monitoring policies and practices that have a positive effect on the health, welfare, and safety of all persons who live, visit, or work in the City of Cambridge, with regard to sexual orientation and gender identity. The Commission holds monthly meetings which are open to the general public. Please visit www.cambridgema.gov/glbt for more information.
On April 13, 1947, a bus carrying 16 "Freedom Riders" arrived in downtown Chapel Hill, North Carolina. Bayard Rustin, the notorious angelic troublemaker, was on board.
Their purpose, simple yet defiant, was to test the 1946 U.S. Supreme Court ruling in Irene Morgan v. the Commonwealth of Virginia, which declared segregation of the races on public interstate buses unconstitutional.
It was not until the Freedom Riders arrived in Chapel Hill, North Carolina, however, that they encountered violence and hostility.
As inciters of the altercation however, four of the Freedom Riders were illegally arrested and detained. Bayard Rustin, one of the four arrested, later served 22 days on a chain gain in Roxboro, just north of Durham.
To honor the legacy of Bayard Rustin on the anniversary occasion of the 1947 Journey for Reconciliation, please join Quinton Harper next Saturday, April 13 for a screening of "Brother Outsider: the Life of Bayard Rustin."
Who is Bayard Rustin? Come find out!
YOU ARE INVITED
WHAT: a screening of "Brother Outsider: the Life of Bayard Rustin"
WHEN: Saturday, April 13, 2013
WHERE: Orange County Social Club, 108 East Main Street in Carrboro, NC
TIME: 4-6:30pm
Please RSVP at bayardrustin.freedomrider@gmail.com next Saturday, April 13 2013 for a screening of
"Brother Outsider: the Life of Bayard Rustin."
Times Magazine called him "the invisible man," and "the unknown hero of the civil rights movement."
Who is Bayard Rustin? Come find out!
MARCH 2013
Remembering Bayard Rustin
Justice, Ethics & Community
with Dr. Terrance Wiley

Online Seminar:
March 18th, 6-8 pm
$20 CTEL certificate and PSR students / $35 general public

This year marks the 50th anniversary of the historic March on Washington led by Dr. Martin Luther King, Jr.  Bayard Rustin, sometimes designated as "Brother Outsider" was the principal architect of the March.  Dr. Terrance Wiley will engage participants in reflection and discussion of the justice ethic and commitment that inspired Rustin's life and work as an activist – even in the face of community resistance to his identity as an openly gay man.

The New Civil Rights Movement writes:
In 1956, Bayard Rustin was hidden in the trunk of a car and snuck out of Montgomery during the Montgomery Bus Boycott because it was feared that having an openly-gay man as an advisor would discredit the efforts of Dr. Martin Luther King and the other leaders of the African-American Civil Rights Movement. Read more…

About the Instructor:

Dr. Terrance Wiley is PSR's Visiting Professor of Ethics, Law and Peace Studies.  He teaches courses at the intersection of religious ethics, theology, political philosophy, and African American Studies, with an emphasis on nonviolent social movement theory and praxis.

Dr. Wiley is currently working on a manuscript, "Angelic Troublemakers: Religion and Anarchism in Henry David Thoreau, Dorothy Day, and Bayard Rustin", which explores the theological anthropologies, ethics, political philosophies, and social theories of three exemplary American religious radicals.

Dr. Wiley holds a BA from Southern Methodist University, a JD from Georgetown University Law Center, and an MA and PhD from Princeton University.
FEBRUARY 2013
THURSDAY, FEBRUARY 21, 2013
(February 21, 1936 – January 17, 1996)
February 21, 2013, marks what would have been Jordan's 77th birthday.
We mark the occasion with some rare images from Jordan's participation in the Constitutional Bicentennial
(1776-1976) planning events. Jordan was active in fundraising and promotion for both national events and Texas state events for the Bicentennial. These are images of Barbara Jordan addressing the House of Representatives in 1974 concerning the upcoming Bicentennial  (including a rare color image of Jordan at the podium).
 JANUARY 2013
Celebrate the legacy of Dr. Martin Luther King Jr. with an MLK Day festival, march and parade  that centers in and around     San Francisco's Yerba Buena Gardens on January 21, 2013.
Attend a full day festival with live music, speeches, a reading festival as well as a march and parade from Caltrain to Yerba Buena Gardens to commemorate the Selma to Montgomery march.
Make sure to register for your free commemorative MLK2013 BART Pass by January 19, 2013,
Rain may cancel some events. Visit norcalmlkfoundation.org for updates.
The 2013 MLK March and Parade kicks off at 11am at San Francisco's Caltrain Station and journeys on to Yerba Buena Center for the Arts and Gardens.
The 1.5 mile march crosses over Lefty O'Doul Bridge and stops at Willie Mays Plaza at AT&T Park to commemorate the Selma to Montgomery, Alabama, marches, which crossed the Edmund Pettus Bridge, a symbol of violence and victory in the civil rights era.
At conclusion of the March  an interfaith commemoration will bring together the region's faith leaders to commemorate the vision  of Dr. King and to lead participants in a spiritual reflection of Dr. King's message.

On Saturday, January 19, 2013, a coalition of nearly 50 Black Gay, Lesbian, Bisexual and Transgender and Same Gender Loving community organizations, individuals, families and allies in Southern California will gather to participate in the MLK Kingdom Day Parade to honor the work of Dr. King and celebrate the significant contributions made by members of the community to his legacy as a whole.
The community selected three historic figures known for their dedicated years of community activism to be the frontliners for this event. Their issues and concerns range from HIV/AIDS, marriage equality, the rights of LGBT people and movements that support equality for transgender people.
These figures include Jewel Thais-Williams, outspoken activist and proprietor of the famous Catch One Nightclub and founder of the celebrated, Village Health Foundation; the world-renowned Archbishop Carl Bean, co-founder of the Unity Fellowship Church movement with numerous branches across the country; Sir Lady Java, human rights crusader, who was featured in Jet Magazine for a historic protest against the famed Red Foxx Nightclub which discriminated against female impersonators, as well as Toni Bradley, daughter of late Los Angeles Mayor, Tom Bradley.
Participation in the 2013 march is coordinated by a coalition of organizations in the theme, "Pieces of the Dream…Fulfilled." Here to Stay Coalition and the Bayard Rustin Coalition are acknowledged for their key role in mobilizing participants in past years.
Representation from a wide sector of Black LGBT/SGLBT organizations is expected for the 2013 march.  Among the flagship orgs are Alpha Omega Nu, Black Lesbians United (BLU), the Black LGBT Project, Royal Family Ent., Dewberries Cultural Center, Pride & Promote, In the Meantime Men, Minority AIDS Project, VHF and Unity Fellowship Church.
"This occasion calls for a united front in our community. Visibility is important.  When we are visible we can no longer be denied benefits and rights that other Americans are freely granted.  The participation of Black LGBT people is not about intimidating anyone.  It's about exhibiting pride in who we are, celebrating our families and our contributions to the Black community as a whole," Says Jewel.
Coretta Scott King, wife of the late Dr. King, also carried a torch for the rights of LGBT/SGLBT people, "I still hear people say that I should not be talking about the rights of lesbian and gay people and I should stick to the issue of racial justice.  But I hasten to remind them that Martin Luther King said, "Injustice anywhere is a threat to justice everywhere." I appeal to everyone who believes in Martin Luther King's dream to make room at the table of brother and sisterhood for lesbian and gay people."
The 2013 Bayard Rustin/Audre Lorde Breakfast will be held Monday, January 21st 10am at St. Mark United Methodist Church, 781 Peachtree St Atlanta, GA 30308. The breakfast honors these two highly influential activists, provides space for fellowship, and enhances progressive coalition building among LGBTQ people and our allies working for social justice. In 2012, co-founders Craig Washington and Darlene Hudson received the Phillip Rush Community Builder Award from Georgia Equality for their leadership of this event.
The theme for the 2013 Bayard Rustin/Audre Lorde Breakfast, Re-Imagining the Dream, represents the significance of collectively owning and working to achieve the modern dream for freedom and equality.  The program will feature the history and current organizing within Black LGBTQ and people of color communities.  Participants will learn more about the critical challenges we face, identify key local resources, and develop organizing goals to address these challenges. "We trust that it will motivate more ownership and envisioning of today's dream for social justice and equality for today's progressive LGBTQ people and our allies, our beloved community," Washington said.
In the tradition of Bayard Rustin, Audre Lorde and Martin Luther King Jr, progressive LGBTQ people in the South must chart and mobilize toward a great dream that recognizes our bodies, our souls, our common vision and our shared values. "The Rustin/Lorde Breakfast has become a symbol of what it means for diverse communities to come together to discuss the social challenges of today, ideas about how we face those challenges, and to share our accomplishments and hopes for the future," said Hudson.
Following the breakfast, participants will join the Martin Luther King Jr March and Rally by gathering at the line-up site on the northeast corner of Peachtree and Ellis streets (same side as Ritz Carlton) at 1:45pm. The MLK March and Rally kicks off at 2pm. Immediately following the march, the rally will be held on Auburn Avenue in the King National Park Area.  Cortez Wright, Communications & Development Associate for SPARK Reproductive Health NOW will serve as our honorary LGBTQ Grand Marshal and speaker at the MLK rally.
150TH ANNIVERSARY OF THE EMANCIPATION PROCLAMATION
- – - – - – -
BY THE PRESIDENT OF THE UNITED STATES OF AMERICA
A PROCLAMATION
On December 31, 1862, our Nation marked the end of another year of civil war. At Shiloh and Seven Pines, Harpers Ferry and Antietam, brother had fought against brother. Sister had fought against sister. Blood and bitterness had deepened the divide that separated North from South, eroding the bonds of affection that once united 34 States under a single flag. Slavery still suspended the possibility of an America where life and liberty were the birthright of all, not the province of some.
Yet, even in those dark days, light persisted. Hope endured. As the weariness of an old year gave way to the promise of a new one, President Abraham Lincoln issued the Emancipation Proclamation — courageously declaring that on January 1, 1863, "all persons held as slaves" in rebellious areas "shall be then, thenceforward, and forever free." He opened the Union Army and Navy to African Americans, giving new strength to liberty's cause. And with that document, President Lincoln lent new moral force to the war by making it a fight not just to preserve, but also to empower. He sought to reunite our people not only in government, but also in freedom that knew no bounds of color or creed. Every battle became a battle for liberty itself. Every struggle became a struggle for equality.
Our 16th President also understood that while each of us is entitled to our individual rights and responsibilities, there are certain things we cannot accomplish on our own. Only a Union could serve the hopes of every citizen, knocking down the barriers to opportunity and giving each of us the chance to pursue our highest aspirations. He knew that in these United States, no dream could ever be beyond our reach when we affirm that individual liberty is served, not negated, by seeking the common good.
It is that spirit that made emancipation possible and codified it in our Constitution. It is that belief in what we can do together that moved millions to march for justice in the years that followed. And today, it is a legacy we choose not only to remember, but also to make our own. Let us begin this new year by renewing our bonds to one another and reinvesting in the work that lies ahead, confident that we can keep driving freedom's progress in our time.
NOW, THEREFORE, I, BARACK OBAMA, President of the United States of America, by virtue of the authority vested in me by the Constitution and the laws of the United States, do hereby proclaim January 1, 2013, as the 150th Anniversary of the Emancipation Proclamation. I call upon all Americans to observe this day with appropriate programs, ceremonies, and activities that celebrate the Emancipation Proclamation and reaffirm the timeless principles it upheld.
IN WITNESS WHEREOF, I have hereunto set my hand this thirty-first day of December, in the year of our Lord two thousand twelve, and of the Independence of the United States of America the two hundred and thirty-seventh.
BARACK OBAMA
The Bayard Rustin LGBT Coalition Wishes You A Happy New Year!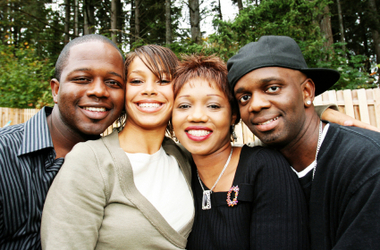 DECEMBER 2012
Happy Kwanzaa from the Bayard Rustin LGBT Coalition!
Kwanzaa: 

Roots and Branches
---
The Continental African Roots
Kwanzaa is an African American and Pan-African holiday which celebrates family, community and culture. Celebrated from 26 December thru 1 January, its origins are in the first harvest celebrations of Africa from which it takes its name. The name Kwanzaa is derived from the phrase "matunda ya kwanza" which means "first fruits" in Swahili, a Pan-African language which is the most widely spoken African language.
The first-fruits celebrations are recorded in African history as far back as ancient Egypt and Nubia and appear in ancient and modern times in other classical African civilizations such as Ashantiland and Yorubaland. These celebrations are also found in ancient and modern times among societies as large as empires (the Zulu or kingdoms (Swaziland) or smaller societies and groups like the Matabele, Thonga and Lovedu, all of southeastern Africa. Kwanzaa builds on the five fundamental activities of Continental African "first fruit" celebrations: ingathering; reverence; commemoration; recommitment; and celebration. Kwanzaa, then, is:

a time of ingathering of the people to reaffirm the bonds between them;

a time of special reverence for the creator and creation in thanks and respect for the blessings, bountifulness and beauty of creation;

a time for commemoration of the past in pursuit of its lessons and in honor of its models of human excellence, our ancestors;

a time of recommitment to our highest cultural ideals in our ongoing effort to always bring forth the best of African cultural thought and practice; and


a time for celebration of the Good, the good of life and of existence itself, the good of family, community and culture, the good of the awesome and the ordinary, in a word the good of the divine, natural and social.
The African American Branch
Rooted in this ancient history and culture, Kwanzaa develops as a flourishing branch of the African American life and struggle as a recreated and expanded ancient tradition. Thus, it bears special characteristics only an African American holiday but also a Pan-African one, For it draws from the cultures of various African peoples, and is celebrated by millions of Africans throughout the world African community. Moreover, these various African peoples celebrate Kwanzaa because it speaks not only to African Americans in a special way, but also to Africans as a whole, in its stress on history, values, family, community and culture.
Kwanzaa was established in 1966 in the midst of the Black Freedom Movement and thus reflects its concern for cultural groundedness in thought and practice, and the unity and self-determination associated with this expression of recovery and reconstruction of African culture.
Anouncing a Fun Holiday Benefit for the Black Coalition on AIDS/Rafiki Wellness.
Remember to Visit our Facebook Page to see featured guests and ho-ho-hosts!  Happy Holidays from BCA and BRC!
NOVEMBER 2012
Bayard Rustin LGBT Coalition's November 6, 2012 Election Endorsements.
Congratulations to the Winning Candidates!
DARRYL MOORE   DISTRICT 2                                                                         REBECCA KAPLAN  AT-LARGE
BERKELEY CITY COUNCIL                                                                                OAKLAND CITY COUNCIL
OCTOBER 2012
SEPTEMBER 2012
R.S.V.P !
Remember to purchase your tickets before the 15th, or reserve at door.
There will be an after dinner dance.
You can purchase tickets from any member of Planning Committee.
No tickets sold at door for our event as space is limited.
 AUGUST 2012
Friends,
Thanks a million to those of you who joined us on August 21 at the Commonwealth Club for an evening with Michael Long, author of "I Must Resist: Bayard Rustin's Life in Letters".
Wow – what an engaging conversation with Michael Long, who so powerfully brings out the depth and dimension of the inspiring, vibrant life and work of Rustin!
"I Must Resist" is an absolute must-read for not only fans of Bayard Rustin, but also for those committed to reflecting on and advancing progressive, coalition-driven movements for justice and equality.
Thank you, Michael, for this marvelous work of scholarship and well crafted gift.
Again, many thanks to co-sponsors Bayard Rustin LGBT Coalition, Alice B. Toklas LGBT Democratic Club, and City Lights Booksellers. And to Melanie Nathan for her presentation on the Nelson Mandela Foundation project, and the lovely medallions.
Above all, thanks to the ever fabulous Julian Chang, LGBT Literary Program Co-Chair at the Commonwealth Club for the opportunity to come together, learn more about, and celebrate the Centennial of Bayard Rustin's birth.
Onward,
Andrea Shorter
CEO 

ATLAS LEADERSHIP STRATEGIES Transform to Lead - Lead to Transform

Click here for Commonwealth Club PODCAST

Many thanks to friends who joined us at the Commonwealth Club on August 21 as I moderated a discussion with Bayard Rustin scholar Michael Long, author of "I Must Resist: Bayard Rustin's Life in Letters" exploring Rustin's legacy as a civil and human rights and LGBT icon, and his impact as a truly transformative American leader. Thanks to co-sponsors Bayard Rustin LGBT Coalition, Alice B. Toklas LGBT Democractic Club, and City Lights Booksellers. 
August 21, 2012
Legacy of Civil Rights and LGBT Icon Bayard Rustin explored with scholar Michael Long at Commonwealth Club of California
SAN FRANCISCO — Scholar and author of the recently released "I Must Resist: Bayard Rustin's Life in Letters", Michael G. Long will be featured at the Commonwealth Club San Francisco on Tuesday, August 21.
Michael G. Long, an associate professor of religious studies and  peace and conflict studies at Elizabethtown College, is the author or editor of several books on civil rights, religion, and politics in  mid-century America, including Marshalling Justice: The Early Civil Rights Letters of Thurgood Marshall and First Class Citizenship: The Civil Rights Letters of Jackie Robinson. He holds a Ph.D. from Emory University in Atlanta and resides in Highland Park, Pennsylvania.
"The Bayard Rustin LGBT Coalition is very proud to sponsor what promises to be an engaging and lively discussion with Mr. Long on the life and legacy of Mr. Rustin," states Joshua Smith, co-chair of the Coalition, an African American LGBT political forum. "This year marks the 100th Anniversary of Bayard Rustin's Birthday. As an openly gay Black man who organized the historic March on Washington, Mr. Rustin's legacy as an iconic figure for civil and human rights and LGBT movements still captures the imagination for social justice movement around the world. We look forward to engaging with Mr. Long on the import of Rustin and King's impact on community organizing for jobs and freedom today."
The engagement is also co-sponsored by the Alice B. Toklas  Democratalic Club and City Lights Bookstore as part of the Commonwealth Club's Future of Work series sponsored by Wells Fargo and Ernst & Young. Moderated by  Andrea Shorter, Bayard Rustin LGBT Coalition co-chair, and CEO of Atlas  Leadership Strategies.
The program will be held at the Commonwealth Club San Francisco, starting with a 5:30pm network reception, and program at 6pm. $20 for general public, $8 for Club members, and $7 for students with valid ID.
By participating in the Bayard Rustin Scholar program a participant will be able to achieve understanding of the following, at minimum:
Race and Racism –
Identify and discuss participant's racial and ethnic heritages.
Learn definitions and guiding assumptions about race and racism.
Explore the concepts of white privileges, internalized racism, and empowerment.
Increase awareness and understanding of individual, institutional and societal/cultural manifestation of racism.
Develop strategies of advocacy for self and other residential students.
Sex, Gender, and Sexism —
Understand the ideas surrounding male privilege and the place of females, femininity, and women in society.
Recognize one's place in relation to women and how one can gain benefits by displaying a more masculine and manly form.
Socioeconomic Status —
Understand working definitions and basic concepts about class and classism.
Reflect on one's own class experience and name class of origin.
Create a space which participants can discuss difficult issues associated with socioeconomic status on campus.
Develop strategies of advocacy for self and other residential students.
Heterosexism and Sexual Orientation —
Explore personal feelings, thoughts, and belief about homosexuality, bisexuality, and sexual orientation.
Understand heterosexual privilege.
Establish connections between heterosexism and other forms of oppression.
Learn information that contradicts stereotypes about gay, bisexual, transgender individuals.
Identify personal actions to address heterosexism and homophobia.
Develop strategies of advocacy for self and other residential students.
Religion —
Understand how religion is manifested in our personal lives as well as in our society.
Identify and discuss actions that participants can undertake to embrace multiple views of religion.
Develop strategies of advocacy for self and other residential students.
Recognize discrimination that occurs because of presumptions of someone's religion.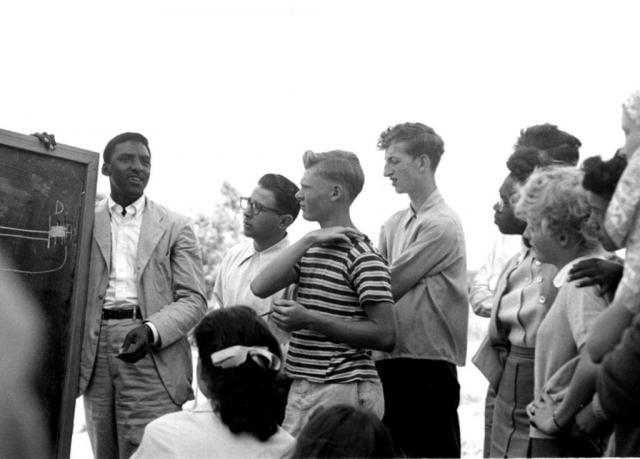 Permission from the Estate of Bayard Rustin
Recent historical accounts have credited Bayard Rustin (Hon. Yale Ph.D 1984) with crafting the pacifist strategy of the modern Civil Rights Movement (1954-1965.)  Acknowledgement of Rustin's essential role in this American Movement has, in turn, reinforced Rustin's reputation in international circles committed to human rights. In addition to organizing the March on Washington, Rustin introduced Martin Luther King, Jr., to Ghandian nonviolence and is credited with inspiring King's decision to critique economic inequality as well as racial discrimination. Rustin's life and accomplishments are little known to the American public, however. Historians now seem to agree that Rustin's story has stayed relatively obscure because he was gay. Although Rustin never concealed his sexual orientation, other leaders of the Civil rights Movement concealed his membership in the most elite circles of the Movement, because the leadership did not support homosexual rights (an idea that began to take shape during the 1920s, in the United States, on the margins of U.S. social thought). Many Civil Rights leaders, in fact, disapproved of homosexuality on legal, moral, religious or personal grounds. In addition, some leaders of the Civil Rights Movement believed that Rustin's homosexuality posed a security risk by drawing added attention from the FBI, which already monitored the behavior of the Movement's participants at every level of their involvement in its activities.
During the fall of 2012, the Lillian Goldman Law Library and several Yale Law School student organizations will celebrate the Centennial of Bayard Rustin. The celebration will take place online and through hardcopy exhibits, as well as with events inside the Law School and at non-law Yale campus sites.
The following photographs and reproduced documents (just a few of those that will be included in the library exhibits) give a sense of Rustin's life and work.
JULY 2012
Upcoming Event
Tue, Aug 21 2012 – 6:00pm
I Must Resist – Updating Bayard Rustin's Dream of Work for All
Michael Long, Author Andrea Shorter, CEO, Atlas Strategies
The March on Washington was largely about jobs and equality. And gay activist Rustin was a driving organizer behind the march at the culmination of which Dr. Martin Luther King, Jr. delivered his famous "I Have A Dream" speech. The community organizing legacies of Rustin and King continue today. Author Long talks in depth about this American patriot and the opportunities for civic engagement that exists every day for each of us.
MLF: LGBT Location: SF Club Office Time: 5:30 p.m. networking reception, 6 p.m. program Cost: $20 standard, $8 members, $7 students (with valid ID) Program Organizer: Julian Chang Also know: In association with Bayard Rustin LGBT Coalition and the Alice B. Toklas LGBT Democratic Club, Atlas Leadership Strategies, City Lights Books
by JOSE VILSON on JULY 29, 2012
Anytime you mention Bayard Rustin's name as a hero, you're good in my book. The mastermind behind the 1963 March on Washington, Rustin rarely gets mentioned by the general public as a civil rights leader, and only seems to come up whenever people (again, rarely) talk about LGBT issues in activist / POC communities. The conversation only gets uglier when people dilute his image for their own political purpose, exalting him to heights I'm confident even he would dissuade.
Let me explain. As far as I can read (and I've read a lot), Rustin was associated with Malcolm X, Martin Luther King Jr., and A. Phillip Randolph in various points of their ideological growths. For someone so determined on speaking truth to power, he sure made lots of friends across a broad spectra. That leads me to believe one very obvious yet unstated axiom: coalition matters. Having a set of people whose beliefs land anywhere from moderate to radical, then bringing them under one umbrella under a few tenets they can all believe, takes a serious effort on behalf of an actual revolutionary.
All this to say that we can learn from his example. If we want to rebuild public education in the progressive vision we believe, we have to stop bolstering differences and start spotlighting our similarities. For all the talk about who's more revolutionary or progressive than the other based on different affiliations and their form of expression, I see a common thread amongst many of us, and that's a deep concern about the direction of public education now, and the love we have for children. We want to improve learning / teaching conditions, reduce standardized testing, proffer more relevant and worldly curriculum, and redistribute funding for schools for more parity and equity. If we can settle on those four tenets, then we've set a solid foundation for truly transforming education in this country.
That's also why I have no issue holding people on the "left" or "right" accountable: getting active around these ideas isn't a matter of ego, but a matter of coalescence, of building. I've agreed with people some might consider rivals at any given moment in the education sphere, and call out those who stand against my core principles.
That's speaking truth to power. That's the essence of coalition. Speaking about andspeaking against. Action paired with speaking out.
"Loving your enemy is manifest in putting your arms not around the man but around the social situation, to take power from those who misuse it–at which point they can become human too"
Word, Mr. Rustin. Word.
San Francisco's Anti Stop-and-Frisk Rally on July 17, 2012
We strongly OPPOSE  New York's existing and  San Francisco's proposed "Stop & Frisk" policy.
Other strategies exist to reduce violent crime without infringing on civil rights. We find ourselves here again – fighting for inherent rights as American Citizens.  A number of American cities are leaning in favor of "Stop-and-Frisk" – a policy that gives police the legal right to stop and frisk any individual they deem suspicious. Furthermore, this gives officers the right to detain any individual and perform a search. Simply put, this initiative targets young minorities of color, legitimizes and legalizes racial discrimination and profiling and sets precedence that illegitimizes our constitution. The fourth Amendment protects us against unreasonable search and seizures – however, this policy allows the disregard of "probable cause".
Will you join San Francisco and the rest of the United States by Standing for Equal Protection Under the Law?
As Americans we have a right for equal protection under the law. We will not be stripped of our civil rights .
Join us today!  We say "NO" to "Stop-and-Frisk".
JUNE 2012
By: David Dayen Thursday June 14, 2012 1:50 pm
This Op-Doc from the New York Times pretty powerfully shows the effect of stop-and-frisk policies in New York City on young black men in the inner city, like Tyquan Brehon.  Tyquan says he was stopped 60-70 times before his 18th birthday, and he's not alone.  Over 685,000 people were stopped and frisked last year, 87% of them African-American or Latino.  The vast majority of those stopped and frisked – 88% – were not arrested or even ticketed.  And what you see from this story is how that drives a culture of humiliation, or degradation.  "If you're with a lot of people, you're a suspect automatically," Tyquan says, and that has an impact on your self-image.  When you're treated like a criminal just for leaving the house and being outside, you tend to want to retreat.  You build your own prison as a coping mechanism.  And that's really a stark limit to personal freedom.
A movement has finally begun to push back against the demeaning, and illegal, process of stop and frisk.  Part of this is just to let young men of color know their rights – it's illegal to stop someone or frisk someone without reasonable suspicion, yet it continues every day.  At the legislative level, the New York City Council wants to increase oversight over the NYPD, for stop and frisk and other policies of targeting specific communities, with an inspector general.  Predictably, Mayor Michael Bloomberg wants to shield the NYPD from oversight.  But it's impossible to watch this video and say that the policy doesn't need to be changed.
The coalition opposing stop and frisk broadened this week from merely civil rights and civil liberties groups, to include the LGBT community and the labor movement.  This is an exciting possibility for a coalition to come together on a criminal justice issue that obviously strips people of their basic dignity.  LGBT activists spoke in front of the famed Stonewall Inn against the practice earlier this week, and they will join a silent march against racial profiling on Sunday June 17, Father's Day.
Download PRIDE2012and Share Your Flyer!
Save The Date!
From 6pm until 9PM on Friday, June 22nd,
At Rasselas Jazz Club 1534 Fillmore Street, SF.
Soul Of Pride in partnership with The Bayard Rustin Coalition is pleased to announce the return of  the annual LGBT African American Pride reception.
Join us as we honor:
Lifetime Achievement Grand Marshal – Mayor Willie Brown,
SF Pride Community Grand Marshal -DJ Edaj,
and Global Equality Grand Marshal – Bishop Christopher Senyonjo of Uganda
The Bayard Rustin Coalition will present its first annual Legislator of the Year honor to Berkeley City Councilmember Darryl Moore
For their tireless work addressing HIV/AIDS in the African American community, Alvan Quamina – Executive Director of AIDS Project East Bay, Brett Andrews Executive Director of Positive Resource Center, Kyriell Noon  of Stop AIDS project, and Perry Lane Executive Director of Black Coalition on AIDS will be presented with certificates of honor.
A special Pride month reading will be presented by nationally recognized literary figure Marvin K. White.
Enjoy a glamorously tasteful drag performance by the lovely Jelousy Jiggets
Move and shake to the soulful sounds of DJ Lamont, founder of Fingersnaps DJ & Art Collective.
While no one will be turned away for lack of funds, a sliding $20 $40 $60 sliding-scale contribution is suggested. Your generous contribution will be shared equally by the Soul Of Pride African Diaspora stage at Pride and the Bayard Rustin Coalition.
About Bayard Rustin Coalition
Bayard Rustin Coalition (BRC) will embrace advocacy and education to effect social change through the creation of a political dynasty that is visionary, proactive and rooted in the Black experience. To that end, BRC aims to: identify and support Black LGBTQ people for elective and public office; Advocate for and propose legislation that advances the civil and economic rights of all oppressed people; Expand the participation of Black LGBTQ people in the electoral process through voter registration and education; Build a financial base in order to support the political agenda of the Black LGBTQ community; Form coalitions with other groups on issues of joint concern and interest.
About Soul Of Pride
The Soul of Pride mission is to unite and represent LGBT's of the African Diaspora in the Bay Area by acting as a conduit for information and acknowledgement of entertainers, events, and entrepreneurs in our community.
 JRC Director: Milton Davis,  Event Coordinator: Chanel Brown
he Jordan Rustin Coalition proudly presents it's 4th Annual Juneteenth Gala & Award Ceremony!
In unity we've made impacts in our communities through awareness and demonstration. This year we will celebrate those who have stood among the crowd to empower growth in the LGBT community by means of our first ever "Red Carpet" semi-formal award ceremony.
This historic event will take place at the beautiful Renberg Theater inside the L.A Gay & Lesbian Center and will include:
*Special Live Performances(TBA)
*Greetings with Community Leaders
*Castle's Catering
………and much more!
Director: Milton Davis
Event Coordinator: Chanel Brown
Tickets are $50 on: www.tinyurl.com/juneteenth2012